When it comes to the ultimate winter adventure, few destinations rival the breathtaking beauty and exhilarating slopes of Park City Utah.
Nestled in the Wasatch Mountains of Utah, Park City is renowned for its world-class ski resorts, charming alpine village, and a vibrant après-ski scene. Whether you're a seasoned skier or a first-timer hitting the slopes, Park City offers a memorable experience for all winter enthusiasts. In this article, we will delve into the thrilling ski opportunities, the picturesque surroundings, and the lively atmosphere that make Park City an ideal destination for your next ski trip.
Embracing the Skiing Paradise
Park City Utah boasts an impressive array of ski resorts that cater to skiers of all levels, from beginners to experts. The crown jewel of the area is Park City Mountain Resort, the largest ski resort in the United States. With over 7,300 acres of skiable terrain, it offers an abundance of trails, including wide-open groomers, challenging bowls, and tree-lined runs. The resort also features world-class terrain parks for snowboarders and freestyle enthusiasts.
Deer Valley Resort, known for its exceptional grooming and impeccable service, is another popular choice among skiers. This resort caters primarily to intermediate and advanced skiers, with meticulously groomed runs and breathtaking views of the surrounding mountains.
For those seeking a more relaxed skiing experience, Canyons Village at Park City Utah offers a laid-back atmosphere with a variety of beginner-friendly slopes and family-friendly activities. This resort also provides easy access to the neighboring Park City Mountain Resort, allowing visitors to explore both areas seamlessly.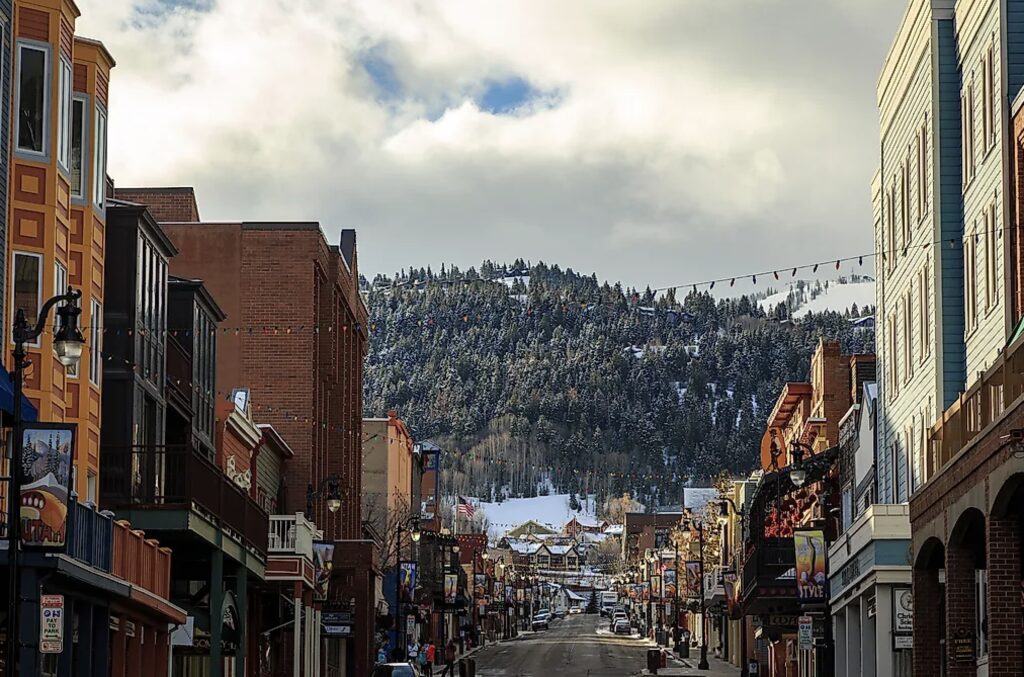 Mesmerizing Alpine Scenery
Park City's natural beauty extends far beyond its ski slopes. The town is enveloped by the stunning landscapes of the Wasatch Mountains, which provide a picturesque backdrop for outdoor adventures. As you ascend the lifts, you'll be greeted by breathtaking vistas of snow-covered peaks and lush forests. The crisp mountain air and serene atmosphere create a sense of tranquility that enhances the overall experience.
To fully immerse yourself in the alpine charm, take a break from skiing and embark on a snowshoeing or cross-country skiing expedition. Explore the pristine trails that wind through the surrounding valleys and forests, offering an up-close encounter with nature's winter wonderland. If you're feeling adventurous, consider booking a snowmobile tour or a guided backcountry skiing excursion to discover hidden gems off the beaten path.
Ski Delights and Vibrant Nightlife
After an exhilarating day on the slopes, Park City Utah offers an array of options to unwind and indulge in its lively après-ski scene. The historic Main Street is the heart of the town, lined with charming boutiques, art galleries, and a plethora of dining establishments and bars. Enjoy a steaming cup of hot cocoa or a refreshing beverage while basking in the cozy ambiance of a fireside lounge.
Food lovers will relish the opportunity to savor a diverse culinary scene that ranges from fine dining establishments to casual eateries serving mouthwatering comfort food. From international cuisines to locally sourced delicacies, Park City Utah offers a delightful range of dining options to suit every palate.
As night falls, the town comes alive with a vibrant nightlife. Main Street's lively bars and clubs offer a chance to socialize and celebrate the day's adventures. Catch live music performances, indulge in creative cocktails, or simply soak in the lively atmosphere as you share stories and laughter with fellow winter enthusiasts.
A ski trip to Park City promises an unforgettable winter experience. With its exceptional ski resorts, awe-inspiring alpine scenery.